The world is now set to heat up by 2.7 °C, despite the Paris Climate Agreement stipulating that average temperatures should rise by a maximum of 1.5 °C (compared with the pre-industrial era). Pressure is building on nation states to set themselves more ambitious targets at a political level, the COP26 UN Climate Change Conference in November 2021 being an example. Work in the economy is also gaining momentum and pressure on companies is growing from several sides. Firstly, there are developments in the capital market, such as stricter criteria for businesses wishing to be included in sustainability funds. Secondly, regulations such as the EU Taxonomy are forcing businesses to publish the environmental impact of their sales, investments, and operating expenses. Furthermore, climate aims and climate protection in businesses are no longer just a matter for first movers and global leaders, since more than 2,000 enterprises have now set themselves scientifically based climate targets. It is becoming increasingly difficult for businesses with a public profile to avoid specific climate aims. A slew of "climate litigation," in which businesses and politicians have been ordered by courts to intensify their climate protection efforts, has produced some major negative headlines of late.
Aims are important as a guide – and ideally they should be measurable and verifiable. But even the most ambitious goals lose their impact if implementation stalls. That is why decision makers and the those who act should talk just as much about how to achieve goals – or, in other words, climate strategies.
What Is a Climate Strategy?
A climate strategy, like any strategy, is an instrument for achieving goals – in this case climate targets. According to IPCC, a climate target always aims to achieve or maintain certain temperature limits, levels of concentration (in the presence of a substance, such as CO2 in μg/m³ of atmosphere), or emissions reductions. Stakeholder Reporting's Climate and Data area advises primarily on projects involving such aims.
There are three basic prerequisites if a business wishes to develop a climate strategy that will succeed:
A framework from which to derive climate targets and the necessary level of ambition – such as the Paris Climate Agreement or Science-Based Targets (SBTi).
The most accurate data available (including emissions) from relevant business units and subsidiaries, in order to enable comparisons with one's own company.
A company's will and commitment to develop and implement a climate strategy.
Developing a Climate Strategy
Developing a strategy does not end as soon as a climate target has been approved. In our view, there are a total of six steps that form the foundation of a robust climate strategy, and these help to achieve the targets set.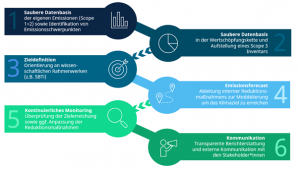 A Clean Data Foundation as a Starting Point
1. Create a clear data picture of your own emissions (Scope 1 and Scope 2) and identify emissions focal points.
2. Screen and compile a Scope 3 inventory to assess emissions within your own value chain.
Every climate strategy should be based on a corporate carbon footprint (CCF) that is as accurate as possible. This is important for considering emissions not only within the company (Scope 1 and Scope 2), but also emissions produced upstream and downstream in the value chain (Scope 3). That is why businesses need to begin by collecting internal consumption data relevant to emissions, and producing an overview of relevant emissions in the value chain. Emissions data should be calculated using the internationally accepted standard, so that it is transparent and can be compared.
Defining the Level of Ambition and Identifying Potential for Reductions
3. Orientate yourself around scientific reduction calculations.
4. Develop internal reduction measures.
5. Draw up a forecast and calculate scenarios from which to derive the climate target.
Using baseline emissions, you can then determine an emissions reduction target for a particular year, based on scientific frameworks such as the SBTi. This ensures that the targets you set are in harmony with the Paris Climate Agreement and the 1.5 °C pathway. Emissions reductions can be determined either on a sector-specific or cross-sector basis; this clarifies the maximum emissions that the company is still allowed to produce in the year it has chosen. Orienting things around a sector-specific reduction pathway is especially recommended for businesses in highly homogenous industries (such as the ICT sector).
The scientific (target) framework is now in place. But the real heart of the strategy is to define measures aimed at achieving the reduction target. These measures and potential points of reduction are usually determined through competitive analyses and expert interviews. These are then converted into emissions scenarios and forecasts in conjunction with strategic, political, and legal developments (such as the EU's "Fit for 55" program) and general trends. This gives the company a transparent overview of how to actually achieve the target set and whether there is additional potential for even more ambitious climate aims.
Continuous Monitoring and Adjusting Measures
6a. Measure the development of total emissions and reconcile with the target, at least annually.
6b. Measure the potential reductions harnessed.
This is often where the development of a climate strategy finishes. The targets are scientifically based, the road to them is marked out by reduction measures, yet the actual business of reducing emissions has only just begun. Another essential factor is continuous monitoring. Stakeholder Reporting can gladly continue to support you. Businesses can track overall emissions and evaluate reduction measures. And it is especially important to compare emissions reductions achieved through measures, with the potential reductions calculated beforehand. If the measures do not achieve the desired result, companies can intervene in good time and make sure they achieve their targets.
This is the latest point at which businesses should begin to talk about their work to the outside world. Reporting and other public statements provide a means by which to facilitate internal management, and various external stakeholders can be engaged and told about the company's commitment, progress, and development.