The annual Econ Awards select the best German-language corporate communications from hundreds of entries. This year's award ceremony gave us and our customers several reasons to celebrate. The sustainability reports of Deutsche Telekom, Merck, and Schaeffler won three of the four awards in that category. Our customers' success gave us fourth place in the agency ranking.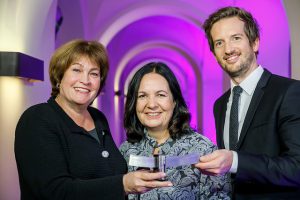 Our long-standing customer Deutsche Telekom again reached the top of the podium. Its 2016 Sustainability Report took platinum, as had its 2013 and 2014 reports. The jury praised Deutsche Telekom for improving reporting standards, introducing new metrics, and impressively utilizing the possibilities of online reporting to promote transparent corporate communications. For example, the online report enables users to enter into direct dialog with Deutsche Telekom on a variety of topics and has a sustainability quiz on its start page. Features like these help the report attract not only analysts but also broader target groups to Deutsche Telekom's presentation of its sustainability strategy and performance. Deutsche Telekom also received a silver award for a CR brochure we designed for them.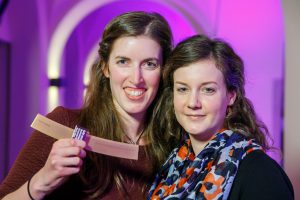 Merck's CR Report also successfully meets the demands of experts as well as interested members of the public. Calling the report a role model for the entire industry, the jury lauded its extensive section of key performance indicators and its clear presentation Merck's contribution to the UN Sustainable Development Goals. The report's attractively designed magazine section contains interviews that provide an engagingly personal introduction to the company's various CR action areas.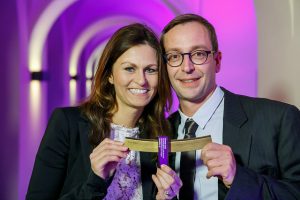 Impressively, Schaeffler's first-ever sustainability report won bronze. The report presents the company's sustainability strategy, the goals it's pursuing with regard to 24 CR topics, and a clear overview of its relationship with its various stakeholders. The jury particularly praised the report's sustainability roadmap for its transparent depiction of the goals Schaeffler has achieved.
We're grateful for the successful partnerships we have with our customers and look forward to more innovative reporting projects with them in the future.
Photos: Thomas Rosenthal & Jan Kobel for Econ. Provided by ECON FORUM, Ullstein Buchverlage GmbH.