Reporting on non-financial and sustainability topics is in a state of unprecedented flux. New frameworks and standardizations are making things more complex, and regulatory pressure is growing. EU Taxonomy, SASB, TCFD, CSRD: sustainability officers are faced with the challenge of bringing order to all these concepts and working out what's right for their companies. Stakeholder Reporting is a partner you can trust in all this. We are fully engaged in all the latest regulations and developments, and we can break them down into manageable portions for businesses.
From 2023, more and more businesses will be obliged to publish sustainability information
On April 21, 2021, the EU Commission presented its proposal for an EU directive on non-financial corporate reporting. With the revision of the Non-Financial Reporting Directive (NFRD) and the Corporate Sustainability Reporting Directive (CSRD), more than 49,000 businesses throughout the EU will have to publish their sustainability information from 2023 onwards; for now, around 11,600 companies are obliged.[1]
But the CSRD defines not only who has to report, but also how and where. From then on, the information will have to be included in management reports. A European accounting standard provides binding guidelines on what these are to contain. (Read more about the CSRD in our blog post.)
GRI, SASB, or TCFD? Businesses Are Using Different Frameworks
Like legal frameworks, voluntary frameworks are very much in motion. Until now, the Global Reporting Initiative (GRI) standard for European sustainability reports has been considered predominant. In 2020, around 85 percent of DAX 160 companies employed the GRI standard as a framework for their non-financial reporting.[2]
But this is changing. In the current reporting year, an increasing number of other standards have been used, such as the framework of the Sustainability Accounting Standards Board (SASB), a US standard which, unlike GRI, focuses primarily on industry-specific indicators with a financial impact. Similarly, the recommendations of the Taskforce on Climate-related Financial Disclosure (TCFD) on climate-related opportunities and risks are finding their way into more and more European sustainability reports and non-financial declarations.[3]
Investors and Capital Markets Are Changing ESG Reporting
The EU's Sustainable Finance Action Plan published in spring 2018 has given the market for sustainable money and responsible investments an unprecedented boost. Sustainable investments amounted to €335.3 billion in 2021 in Germany alone, and the annual growth rate is an impressive 25 percent.[4] This development is fueling demand for reliable ESG information with which to evaluate companies – and with it the demand for transparent ESG reporting.
The trend in ESG investments has also been advanced by investment company BlackRock. In 2020, CEO Larry Fink wrote an open letter to all of BlackRock's holdings stating that the company would divest itself of investments representing a significant sustainability risk – and in the same breath explicitly recommended that businesses report in accordance with the SASB and TCFD frameworks.[5] It has worked: SASB says it saw a 500 percent increase in sustainability-related reporting between 2019 and 2021.[6]
The standard is also expanding beyond the United States. By 2021, 57 percent of reporting companies were based outside the USA. This means that international standards are establishing themselves in the EU. SASB and TCFD are quickly becoming more relevant in sustainability reporting and the focus is no longer exclusively on GRI. GRI has provided a sound basis for reporting on which other standards are building.
Putting an End to the Patchwork: Making ESG Reporting Comparable
Things are set to change yet again in the medium term. Various players are currently in the process of joining forces in pursuit of standardized sustainability reporting. The organizations behind the five major sustainability frameworks – CDP, Climate Disclosure Standard Board (CDSB), GRI, SASB, and the International Integrated Reporting Council (IIRC) – agreed in September 2020 to work together on a globally applicable standard for sustainability reporting. SASB and IIRC established the Value Reporting Foundation with a similar aim.
All this is making businesses uncertain. Instead of there being a standard way of reporting, it can appear as if additional standards are being created that make ESG reporting even more complicated and diverse.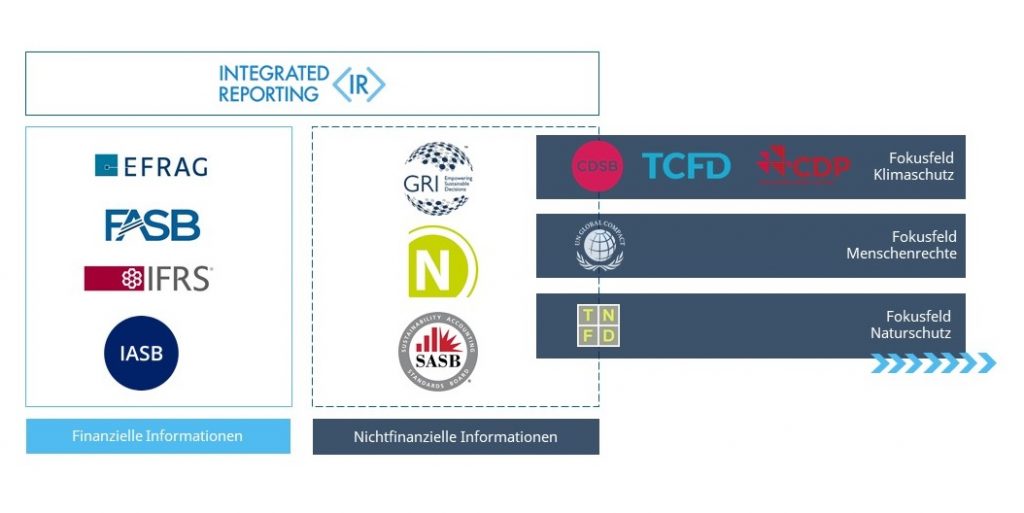 Awash with standards: sustainability.
In its quest for a uniform standard, sustainability reporting is following in the footsteps of financial reporting. The accounting standard set out by the International Financial Reporting Standards Foundation (IFRSF) has been mandatory for publicly traded companies since 2005, and enables financial information to be compared internationally.
Financial Reporting as a Model
The current draft of the CSRD envisages businesses digitally "tagging" the sustainability information they report. In doing this, the EU is basing itself on requirements for the digital labeling of financial information (ESEF) which have applied since the 2020 reporting year. Tagging is also being considered as part of the ongoing development of the EU Taxonomy for Sustainable Activities.
Initiatives are also forming that aim to promote greater standardization of financial and non-financial information. At the EU level, discussions are currently underway on a European Single Access Point (ESAP) for corporate financial and non-financial information.
The ESAP is designed to improve access to company data and the way these data can be compared and analyzed, while enabling the use of machine-readable data. This EU initiative aims especially to significantly improve the availability and quality of corporate ESG information.
Although this is aimed at making ESG data more definite and easier to compare, for businesses it will mean more complex collection and reporting processes, at least at first. This is because the ESAP, like the EU Taxonomy, stipulates exactly which data have to be published, when, and how. And this may be very different from what businesses are currently doing.
Rely on the Expertise and Experience of Stakeholder Reporting
We are keeping an eye on these and other new requirements, standards, frameworks, recommendations, and trends, and we can advise and assist you in designing, implementing, and publishing your sustainability report and non-financial declaration.
Give us a call or write us an e-mail. We look forward to hearing from you.
Text and graphics: Isabelle Fritsche and Sebastian Kühn
Sources:
[1] https://www.drsc.de/app/uploads/2021/04/20_10a_Gem-FA_NFRDII-1.pdf
[2] https://www.deutsche-boerse-cash-market.com/resource/blob/2275510/38751e8a91589175e30672fb11ed12a4/data/Kirchhoff-BDO-Studie-Die-nichtfinanzielle-Berichterstattung-2020.pdf
[3] https://www.drsc.de/app/uploads/2021/06/210128_CSR-Studie_final.pdf
[4] https://fng-marktbericht.org/fileadmin/Marktbericht/2021/FNG_Marktbericht2021_Online.pdf
[5] https://www.blackrock.com/ch/privatanleger/de/larry-fink-ceo-letter